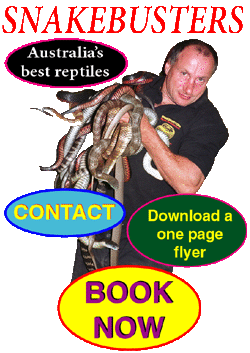 Households should remember that we are the only licensed Snake Catcher in Diamond Creek, the Diamond Valley and nearby areas, Melbourne, Victoria. Anyone else calling themself the Snake Catcher in Diamond Creek is a trademark infringing thief and lawbreaker.
Over 40 years experience makes The Snake Catcher ®, Raymond Hoser ®, Australia's best reptile handler and fastest snake controller.
We do snake handling and reptile control in Diamond Creek, St Helena, Doreen, Mernda, South Morang, Yarrambat, Hustbridge, Wattle Glen, Kangaroo Ground, Eltham, Kinglake, Whittlesea, Warrandyte, Research, Park Orchards, Wonga Park, Cottles Bridge, St. Andrews, Panton Hill, Greensborough and other nearby suburbs, Melbourne, Victoria, Australia. We are the only licensed snake removal in these areas and operate 24/7.
The Snake Catcher® Melbourne
PHONE: 0412 777 211
or
(03) 9812-3322.
(Licenced snake removalists)
See below for details. Melbourne, Australia (All Suburbs)
(Mobile dispatch) 0412 777 211
For the removal of your problem snake/s.
(Note it is an offence under Victorian law for an unlicenced person to attempt to capture or kill a snake). Raymond Hoser is the only licenced snake catcher in Diamond Creek.
Don't take risks - call "The Snake Catcher"!
24 hours a day to Diamond Creek and other nearby Melbourne suburbs!
Shows, events, parties, incursions, courses, front page, click here.
(See: Our terms and conditions).